Granite Hills High School Pool Facility -
Porterville Unified School District, Porterville, CA
Completed September 2000

The Granite Hills High School Pool Facility was the addition of a new aquatic facility at an existing campus. Specific components of the project include:

a. 50-meter by 25-yard all deep water competition pool with 25-yard shallow water extension. The pool is suitable for CIF competitive swimming, water polo and diving as well as FINA competitive swimming, diving and water polo.

b. Automatic timing system and scoreboard.

c. Gas chlorine sanitation system with emergency scrubber system.

d. Concrete bleachers seating for 500 spectators.

e. 650 square foot women's and 550 square foot men's restroom buildings.

f. 2,000 square mechanical building.

g. Pool deck, perimeter fencing, competition level overhead lighting, landscaping and other site amenities.



Back to More Competition Facilities

View List of Other Competition Facilities Projects >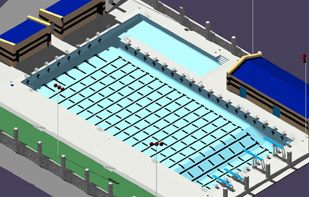 50-Meter by 25-Yard Competition Pool with 25-Yard Shallow
Water Extention