Dominguez Aquatic Center - City of Carson, CA
Completed July 2003

The Dominguez Aquatic Center is a new facility at an existing park site and consists of the following components:

a. 3,500 square foot shallow water activity pool that contains a 25-yard shallow-deep-shallow swim course, and a landing area for a 150-foot flume length water slide and shorter dual flume children's slide.

b. 1,500 square foot play pool that contains a zero depth entry with interactive play features and a shallow water training area.

c. 4,100 square foot locker building.

d. Shade structures, perimeter fencing, pool deck, overhead lighting, landscaping, parking improvements and other site amenities.



Back to More Recreational Facilities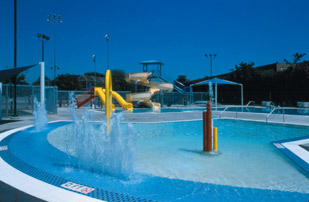 Play Pool